Spring 2016 Review of our Chapter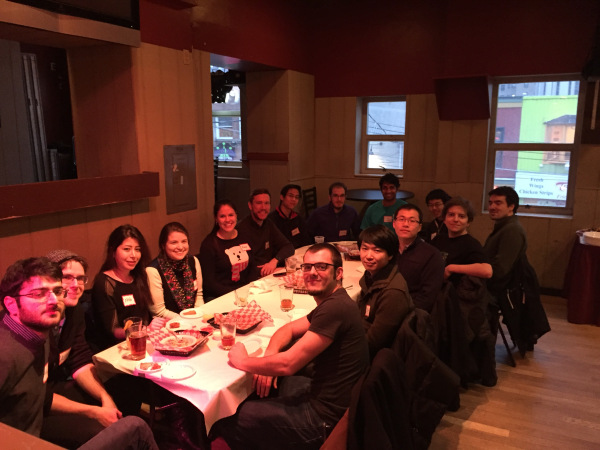 A great deal has happened since 2015 at CMU INFORMS. The chapter debuted on big events, became widely known by the MBA student body, and got further faculty support.
The big things
We made our first use of the INFORMS Speaker Program in April by inviting Steve Sashihara (Princeton Consultants CEO and author of The Optimization Edge) for a talk at the Tepper School of Business, where he was received by a mix of PhD and MBA students as well as faculty and local practitioners.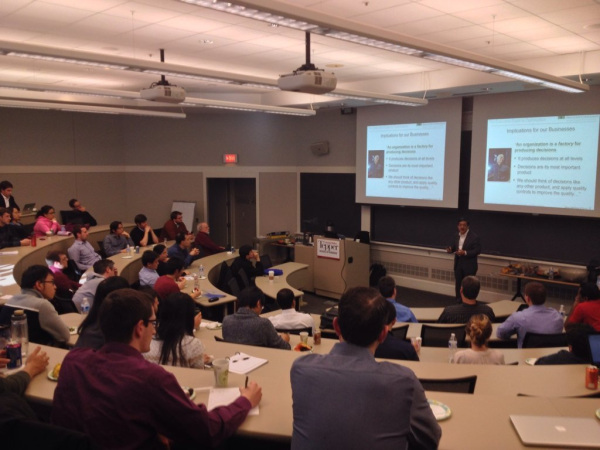 Back in February, we held our second joint happy hour with the University of Pittsburgh chapter. We had a much higher attendance this time.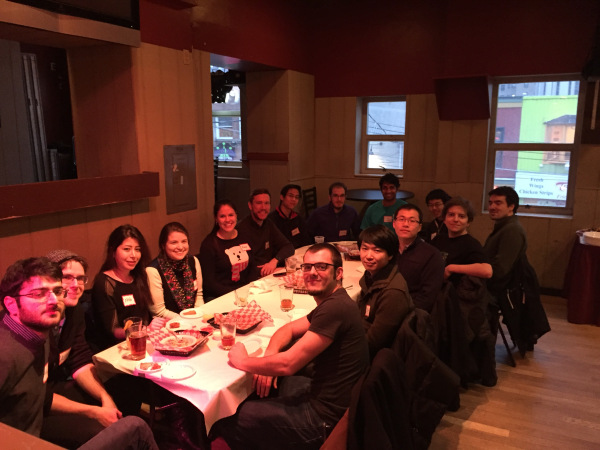 We have also promoted another 20 gatherings: 12 seminars, 6 review sessions, and at least 2 board meetings. More about that can be found below.
A funding boost
The standard funding for a student chapter is a $150 check sent by INFORMS every year. Some chapters also charge their members. We have found alternative sources:
First, we sought university resources by explaining that we are complementing what the institution offers. That helped us receive a $500 donation from the CMU Alumni House by the end of 2015 (thanks to Aleksandr Kazachkov) and another $1500 from the Operations Management and Operations Research doctoral programs at the Tepper School of Business in 2016 (thanks to Siddharth Singh and professors Alan Scheller-Wolf, Nicola Secomandi, Gerard Cornuejols, and Fatma Kılınç-Karzan).
Second, we went after CMU student body allocations, which are funded by the activities fee paid by all students. We secured $1000 of funding for catering and lodging two speakers in the upcoming academic year (thanks to our treasurer – and professional accountant – Chris Boccio).
Legacy, future, and succession
If he were not graduating, I would have supported David Sandora as our next president. Our former secretary and first MBA officer led the efforts to update our bylaws and reflect on what we want to achieve. To make the organization more flexible and goal-oriented, we merged the positions of secretary and treasurer and we created the role of marketing directors for specific constituencies. We currently have four officers in that position: Siddharth Singh for PhDs, Lauren Wilson for part-time MBAs, Carlos Balin for full-time MBAs, and Michael Rosenberg for undergrads. We have also formalized the board of emeritus officers, for which we invite former officers that have not graduated yet, such as our founder and first president Aleksandr Kazachkov.
Prior to the elections, David organized a deck of slides (attached to the original post) with input from the board. I am particularly fond of the mission and strategic goals that we set. They are quite ambitions, but… why not?
CMU INFORMS aims to become a role-model INFORMS student chapter by 2020, having achieved Summa cum laude distinction three out of five years.
CMU INFORMS aims to serve each of its student constituencies by:
PhDs – Providing access to top-level research and a peer network
MBAs – Supplementing quant MBA training to support business leadership
Undergrads – Preparing students for career success through access to resources
Potential strategic objectives, based on current initiatives, for the 2016-17 academic year may include:
Implement mechanisms for improving outreach to MBAs, undergraduates
Initiate and expand on cross-discipline events such as outside speakers, trainings, and a case competition
Improve regional networking with other INFORMS chapters
Secure continuous funding
Thanks to Steve's talk, we had no shortage of MBA students interested in joining the organization. Among MBAs, Lauren Wilson and Carlos Balbin joined the team while David Sandora left. Among PhDs, Christian Tjandraatmadja left and Nam Ho-Nguyen joined as vice-president. Siddharth Singh, Chris Boccio, and I remained in our positions. Shortly after the election, we were joined by Michael Rosenberg to help reach out to undergrads.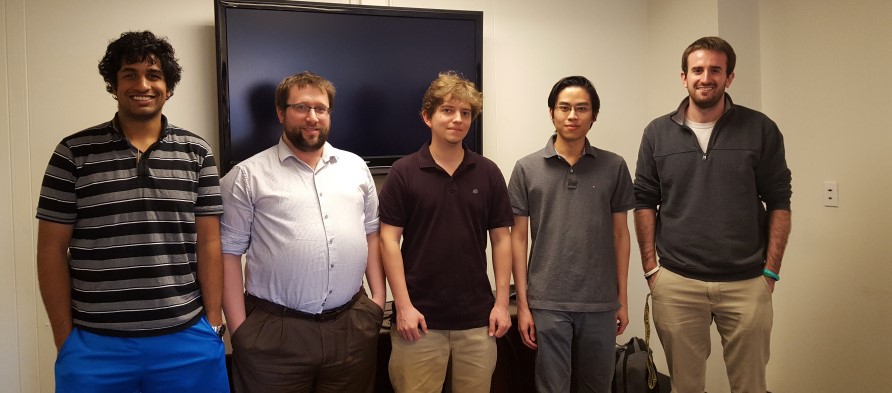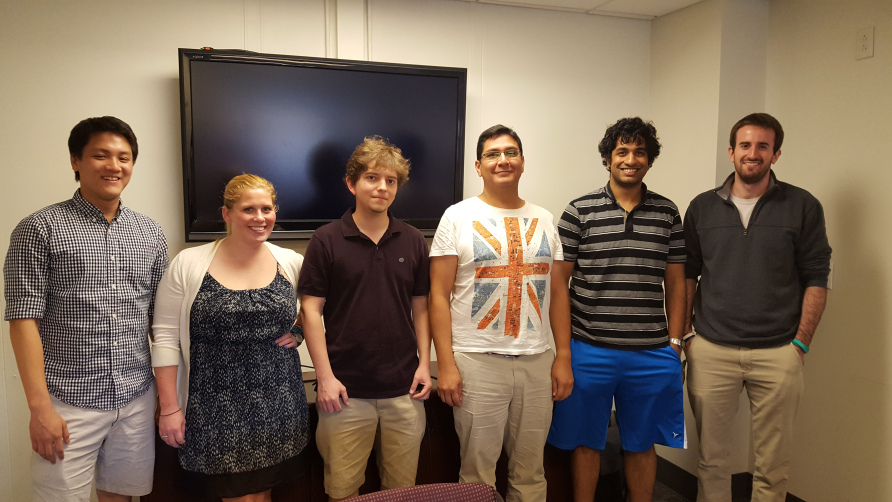 Student-led seminars and review sessions
Continuing with our traditional Monday discussion dinners started by Tarek Elgindy in early 2015, we had another 12 student-led seminars:
02/01 – Yang Jiao: Student question posets
02/08 – Thiago Serra: Sound decision diagrams: a .zip file of near-optimal solutions
02/15 – Dabeen Lee: On some polytopes contained in the 0,1 hypercube that have a small Chvatal rank
02/22 – Nam Ho-Nguyen: Second-order Conic Formulation of the Trust Region Subproblem
02/29 – Stelios Despotakis: Attribution models in marketing
03/21 – Tarek Elgindy: Topics in AC optimal power flow
04/04 – Gerdus Benade: Formulating a branching dual
04/11 – Aleksandr Kazachkov: Small representations for large kidney exchange graphs
04/25 – Thiago Serra: Reformulating the Disjunctive Cut Generating Linear Program
05/09 – Siddharth Singh: Net Metering Policies for PV solar electricity
05/16 – Dabeen Lee: Optimizing over the Chvatal Closure of a 0,1 Polytope is NP-Hard
05/23 – Bo Yang, Franco Berbeglia, and Mehmet Aydemir: Summer paper proposals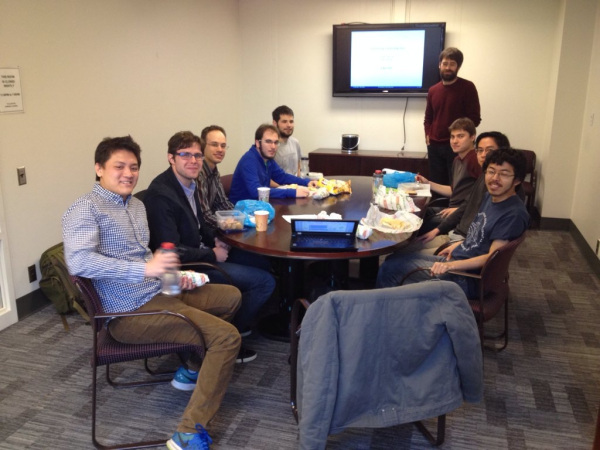 We also revived our reviews sessions for upcoming talks, surpassing our 2015 numbers already:
01/21 – Laci Babai (The University of Chicago)
01/29 – Nina Balcan (CMU)
02/05 – Javier Pena (CMU)
02/26 – Yanjun Li (Purdue University)
03/04 – Andrea Lodi (Polytechnique Montreal)
04/08 – Rakesh Vohra (University of Pennsylvania)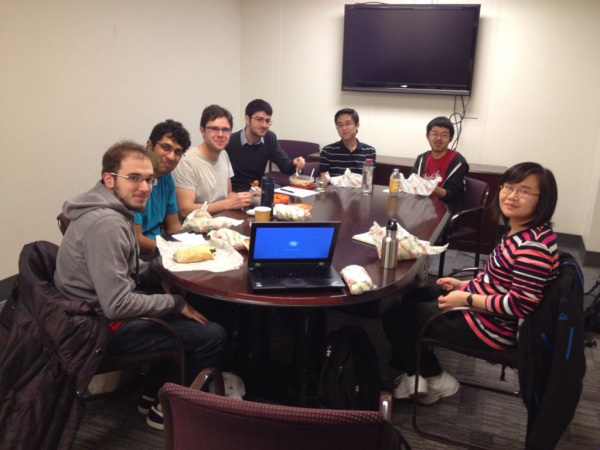 The next big things
There is a lot more than we could do. We are currently working on the following directions:
Promote activities focusing on undergraduate students
Turn Steve's talk into the first event of a talk series with industry speakers
Look for other ways to convene with neighboring student chapters and related organizations