PhD Entrepreneurs Panel Discussion
On the evening of February 5, 2020, we were pleased to invite three PhD entrepreneurs for a panel discussion to share their journey from PhD to entrepreneurship. The panel had Navid Kazem, Markus Drouven and Andrew Hudson, all current entrepreneurs and CMU PhD alumni! This panel initiated our exciting set of events for spring 2020. As part of our chapter's Industry Speaker Series, the panel seeks to help fill in the gap in us PhD students' limited exposure to entrepreneurship, and enlighten the audience in the way to take our research and intellectual capital to make an impact in real-world.
Musa, the president of CMU INFORMS Student Chapter, hosted the event. Musa started by welcoming attendees from different PhD programs at CMU and University of Pittsburgh, including OR, OM, Organizational Behavior & Theory, Chemical Engineering, Materials Science,Robotics, Computer Science and ECE. He then shared with the audience that the primary mission of our INFORMS Student Chapter is to bring together students interested in OR/MS and analytical problem solving. Musa continued to give a brief background on the panelists.
Navid received his master's degree in Civil Engineering in 2013 and PhD in Computational Mechanics from CMU in 2018. He is a co-founder of Arieca, a materials technology company solving heat management issues for the electronics, aerospace and automotive industries with their thermally conductive rubber. Navid had served as the CTO of the company between May and October 2018. Since November 2018, he is the CEO of Arieca.
Markus received his PhD in Process Systems Engineering from CMU in 2017. He then worked at EQT, which is the largest natural gas producer in the US, for more than 2 years leading the Optimization Engineering team. Markus founded Exenity in October 2019 and he is the CEO of the company, Exenity provides optimization-based decision-support solutions in oil and gas, chemical, and supply chain industries.
Andrew received his master's degree in Biomedical Engineering from CMU in 2015 and he worked as a 3D Bioprinting Researcher at CMU between 2014-2018. He is currently a PhD student in Biomedical Engineering. Andrew is a co-founder of FluidForm, which builds the additive manufacturing platform for 3D printing silicone and 3D bioprinting. He is serving as the COO of FluidForm. After thanking the panel for their time and support, Musa started the first part of the panel where he asked a list of questions to the panelists.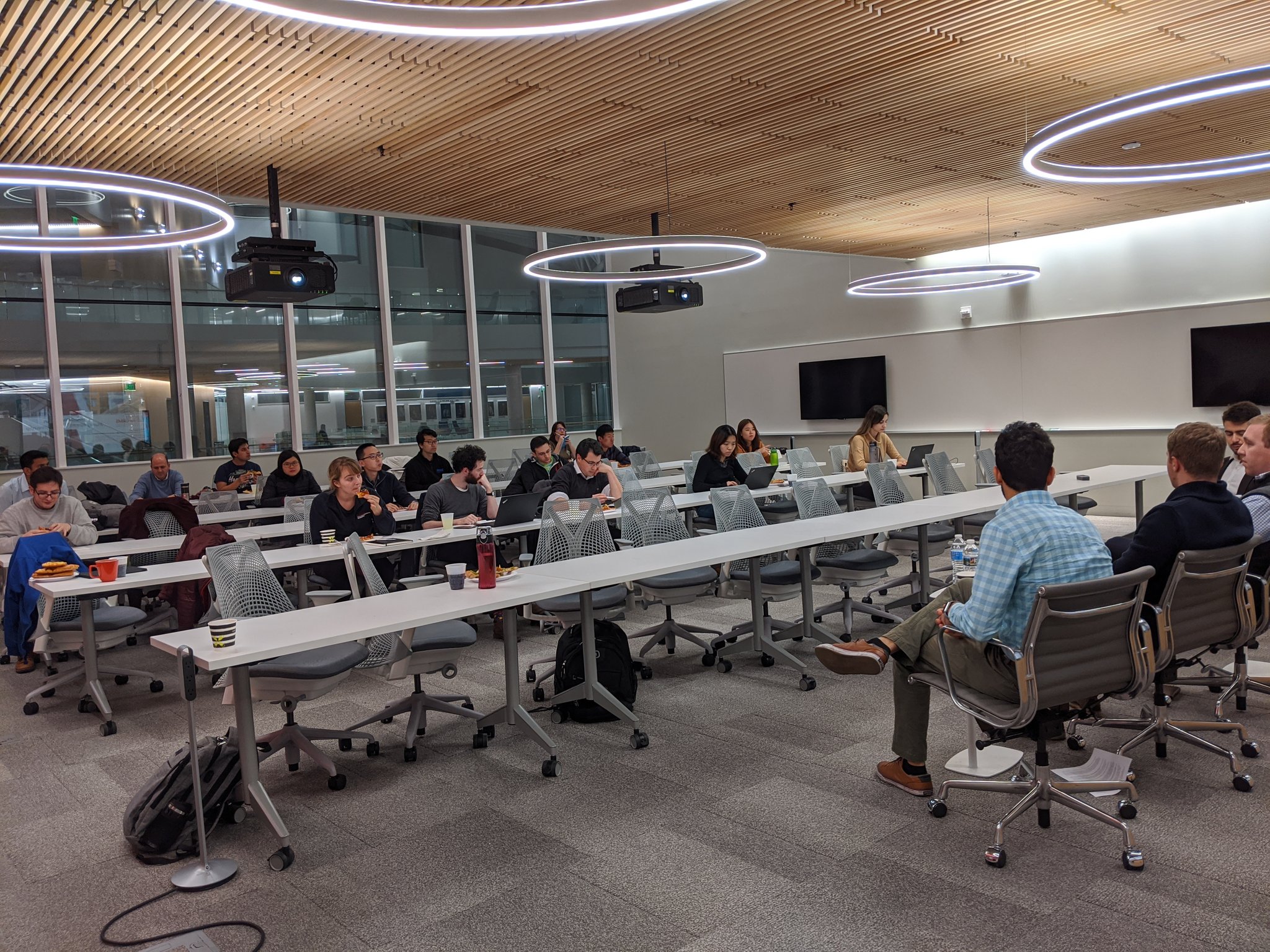 Would you give your company's story? What is your company working on and what do you do?
Markus: We are a company helping other companies with better decision making on logistics, scheduling, planning and other problems that can be solved with analytical and optimization methods.
Andrew: Our company is a bio 3D printing company. We mostly print light-weighted parts with high-strength fluid biomaterial. We also plan to do tissue generation in the long term.
Navid: Our company produces high thermo-conductivity rubber and we mostly work with companies in electric industry. In this field, one of the challenges is heat management, and the material we use can help electronics run at a cool temperature with higher speed and efficiency.
What was the moment / how far along the program did you realize that start-up was an option? How was the idea generated? What was the thought process?
Markus: Before starting I wanted to join a company after my PhD first, so that I could understand how people make decisions in the real world where you do not have access to the optimal decision or it's too costly most of the times.
Andrew: I had a summer internship in Germany while doing a PhD, and that was when I decided that I want to found a company. I was anyways always a high risk-high reward type of person.
Navid: The goal of my PhD was to start a company, since I was doing high-tech research it was convenient to convert my PhD into a business. I was working on a novel combination of improving mechanical and thermal properties of material.
How difficult was the transition from an academic environment to managing a company or what were the challenges? What are the changes in mindset needed from a PhD student/graduate to found or join a start-up?
Markus: After grad school, I worked in industry for a while as I mentioned earlier. What I realized after transitioning into running my own startup was that grad school and start up mindset are very similar to each other, in both good and bad aspects. You identify with your work in both, you put all your energy and heart and time into what you do. I would say startups and grad school are very similar. However, working for someone else in a company is another story.
Andrew: I would say marketing side of the things are very different. My PhD was very technical and just like my colleagues I spoke very conservatively of my work and was very humble, did not brag about it. But the business world is the opposite, you gotta market yourself and your business, impress people and improve your marketing skills, which is very different from grad school.
Navid: I think what is common in both worlds is the problem solving nature of the job. There is a new and not-so-straightforward problem that you try to tackle. You gotta be open to try new things and you should have good communication skills, especially in startup world.
I see that in your work, you have to wear different hats to manage the business. Can you mention a little bit about how you improve on the business side, especially given that most of us are grad students here, with little to no experience in business?
Navid: If you are thinking about founding your own company, you should utilize resources available. Swartz Center would be a good place to start once you have an idea. You should be willing to learn new things. About wearing different hats, for me personally, I am more motivated by seeing that I am capable of doing better in all kids of tasks from finance to engineering.
Andrew: In startup world, you learn by doing basically. It is also important to have a good advising network.
Markus: For us, it was the customers' demands that made us become better and more successful. They give you feedback and often they are brutally honest. You learn to value feedback from clients and improve your business and yourself in the process.
What was the role of your advisors/mentors in this process? How important is it to find the right mentors to achieve success?
Andrew: There are two types of advisors we can talk about here. Business related/technical advisors and personal ones.
Navid: I was a lucky one to get support from my academic advisor who is an expert in the area. However, in general, mentors are crucial in the sense that they can have different perspectives, understand the whole picture and therefore make better-informed decisions.
Markus: I will say something on the other end of the spectrum. I do value different opinions, however, at the end of the day, YOU are the one that needs to make a decision about your business, and nobody else knows is as well as you do. But I agree that in areas that you are not as competent, it's important to talk to more knowledgeable people.
What are the bureaucratic and financial challenges of founding start-ups and what do you think it was the worst mistake you made in this process? What did you learn from this mistake?
Navid: For our company, our mistake was not being rigorous in picking the right applications to apply out material on. You should learn to be more focused in terms of your target customers and industry. You should plan for success but do not be afraid of making mistakes, it is a part of this process and you learn from those mistakes not to repeat them in the future.
Andrew: I would say how to determine the equity ratio of the founders is a more important and crucial process than what I realized. In this aspect, it is also pretty challenging to establish a healthy relationship with your co-founders. Especially in my case, since one of them was my advisor.
Markus: The most challenging part for me was to deal with insurances, and legal aspects of the business. In terms of mistakes, we, at first, underestimated how fast things change. If you want to be a successful business, you should learn to ne adaptable to changes in the environment such as demand, needs, deadlines etc.
How do you utilize the resources that the SWARTZ center provides?
Markus: SWARTZ is a beneficial place small and medium sized companies. They connect you with those businesses looking to outsource solutions and potentially, thy can become your first customer.
Andrew & Navid: There is this initiative called project Olympus. The idea is basically you pitch an idea and get feedback from professionals. SWARTZ also provides a funding of $50 K to help you get started. They introduce you to new people who can help expand your ideas and be your future potential customer or investor.
After the panel, we had a Q&A session during which they answered question regarding the path to follow if you want to found your own company as a PhD student, whether or not to invest in patents, the legal processes and fundraising for your company.